Over 500 reports from 4 countries
Only few minutes after the event, the AMS and its international partners (IMO, Vallende Sterren, Werkgroep Meteoren, UKMON and Naturhistorisches Museum Wien) started to received many reports about a very bright daytime fireball spotted over the North Sea. So far, we received over 500 reports about this unusually bright event that occurred around 12:50 UT on Thursday, September 12th 2019.
The event was mainly seen from the Netherlands but we also received reports from Danemark, Germany and Belgium.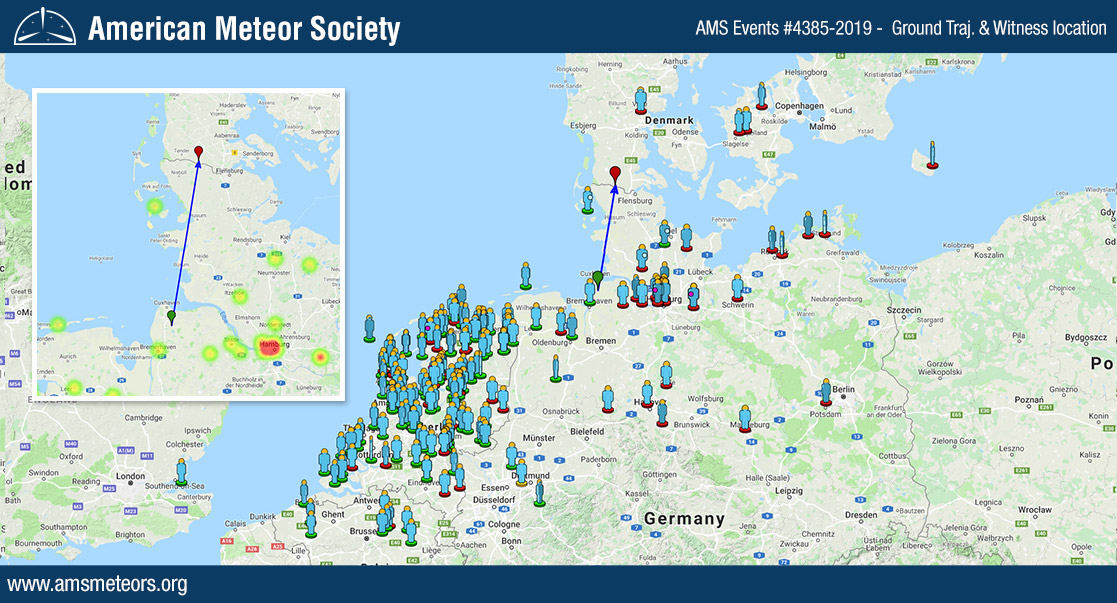 Trajectory and Videos
We computed a ground trajectory of the event based on all the reports submitted to the AMS less than 2 hours after the event. This trajectory (see above) shows that the fireball was traveling from South-East to North-West and ended its flight south of the city of Rens in Danemark. Note that we presented another trajectory earlier today based on all the reports we received. This trajectory was different (the visual flight ended over the North Sea). After a review, we applied a refinement filter to the witness data and re-computed the trajectory using only the witness reports submitted within less than 2 hours following the event. Memories and details fade quickly, so our experience has shown reports submitted closer to the time of the event, are generally more accurate. The new witness track agrees, much better with the CNEOS track and angles from the Jörg Strunk's AMS camera that recorded the event. Based on this information, there is a very good chance meteorites landed near the Germany and Denmark border.
Below is the refined AMS track next to the CNEOS/NASA track.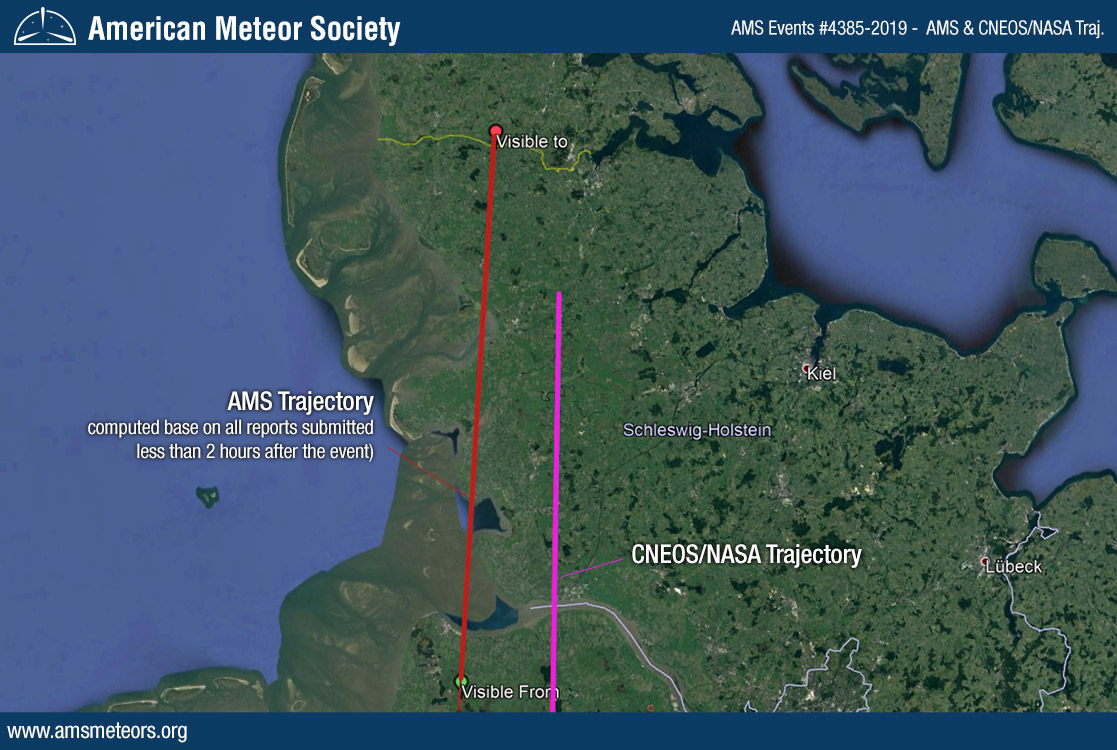 The event has been caught on camera:

As you can see in the video above, the video has been recorded among other by AMS Camera Operator Jörg Strunk. Jörg's video will be a tremendous help to estimate the "real" trajectory of the event since it has been recorded by a camera calibrated to record this kind of events.

The Kitte Buddy Youtube channel presents a fairly unusual video for this kind of event:

The fireball has also been recorded by CNEOS/NASA that estimated the energy emitted by the event at 0.48kt which is fairly important (thanks to Lead, NASA Meteoroid Environments Office William J. Cooke).