More than 115 reports from 4 states
The American Meteor Society (AMS) received more than 115 reports so far about a fireball event that occurred over Southern California on October 16th just past 8:45 PM PDT (October 17th, 03:45 Universal Time). The AMS #2021-6638 event was mainly seen from California, but was also visible from Arizona, Nevada and Utah.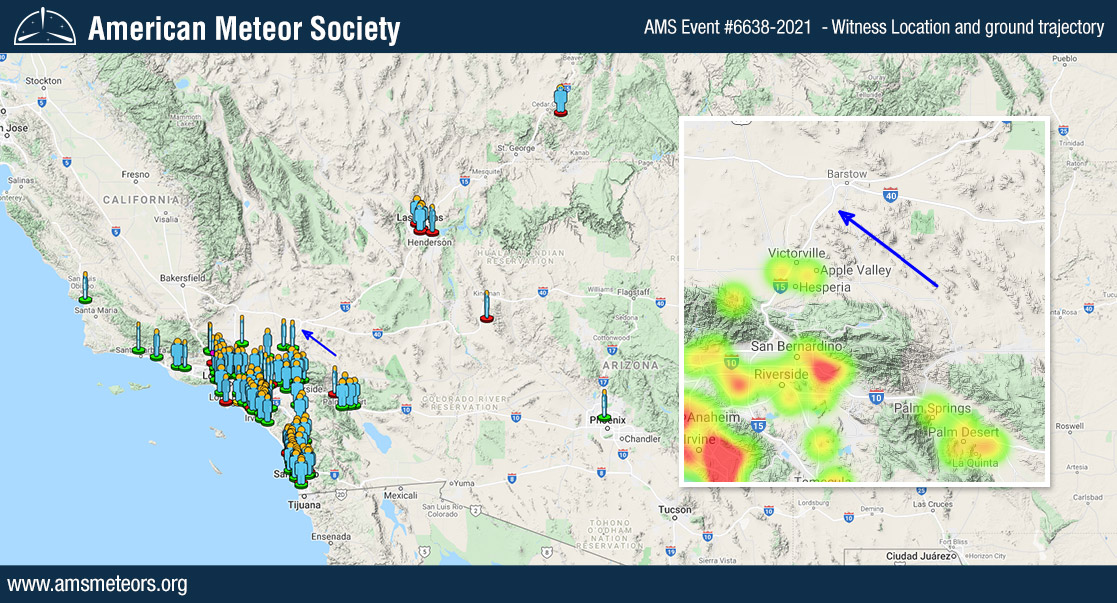 Trajectory
The computer generated trajectory from the list of current witnesses, indicates a path just north east of San Bernadino, CA. Constrained by information from 3 publicly accessible cameras in the region, these reports enabled NASA to establish that the fireball was first sighted at an altitude of 51 miles (82km) above the Mojave Trails National Monument. It moved to the northwest at 47,000 miles per hour (75,600 km/h) finally disintegrating 32 miles (51km) above the California town of Yermo, just east of Barstow. Taking 3.8 seconds to burn up, the meteor managed to travel 47 miles (75km) through the upper atmosphere; its peak brightness was between that of a quarter and full Moon.
Eye witness Sandy Vernona Munoz from shared a video of the event with us:
Fireball, Bolide?
Several thousand meteors of fireball magnitude occur in the Earth's atmosphere each day. The vast majority of these, however, occur over the oceans and uninhabited regions, and a good many are masked by daylight. Those that occur at night also stand little chance of being detected due to the relatively low numbers of persons out to notice them.
Additionally, the brighter the fireball, the more rare is the event. As a general thumb rule, there are only about 1/3 as many fireballs present for each successively brighter magnitude class, following an exponential decrease. Experienced observers can expect to see only about 1 fireball of magnitude -6 or better for every 200 hours of meteor observing, while a fireball of magnitude -4 can be expected about once every 20 hours or so.